We specialize in:
Repairs
Upgrades
Networking - Wired & Wireless

Emergencies
System Set-Up
Virus Detection and Recovery
Security and Performance
Hardware/Software Sales
Web Site Hosting & Design
E-Mail services
The single most common problems with computers today are caused by viruses, spyware & malware. Don't replace your computer!!! Give us a call to come clean it up! We'll get it running as good as new!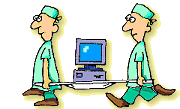 PC Repair Service, on-site or off site - your choice!
Has your computer died, or blown up on you? Allow us to replace it with a new one to fit your needs!
Whether you need assistance with building or maintaining your network, we can help you with your small office LAN or your multi-office WAN.